US Chess Home
About USCF
Governance
In Passing
Al Sandrin
Al Sandrin (1923-2004)
Al was a resident of the Norwood Park Home, a division of Nor-Wood Life Care NFP located at 6020 North Nina Avenue, Chicago, Illinois 60631-2410. Phone:(773) 631-4856, Fax: (773) 631-4850. The article below appeared in the Vol. 65 No. 1 - Spring/Summer 2003 issue of the Nor-Wood Life Care NFP News and permission was granted for USCF to reprint the article.
When It Comes To Chess, Al Sandrin Is No Pawn
Some people join the Navy to see the world, but resident Al Sandrin learned to play chess and then sought opponents all over the world. Along the way, he traveled to England, Finland, Holland, and Germany to play in various competitions. In the United States, he appeared at tournaments in Omaha, New Orleans, Corpus Christi, Long Beach, and San Diego. Besides cherished memories, he also claimed first prize ($35) at the Illinois State Tournament in 1944 and won the U.S. Open in Omaha in 1949.
He recalls his uncle teaching him and his brother to play chess for fun. They made up their own moves and then a few years later decided to get serious about the game. That's when they borrowed some books from the library and learned the "conventional way of playing." Before long, it was tournaments and a stint teaching at the Central YMCA in downtown Chicago.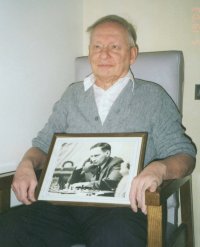 In 1968, now totally blind, Al played the #1 position on a team of four in the U.S. Braille Chess tournament. Al's vision was damaged in August, 1929 when, while playing outside the family home on Chicago's south side, the bored six year old stared directly into the sun for a long period of time. His eyesight deteriorated very slowly over the following years. In 1952 he entered the Marshall School for the Blind and studied piano tuning.
His hearing, however, became more acute with the loss of vision. With his studies behind him, he advertised in the telephone book for customers. Soon, the phone was ringing, and he was traveling by "L" train and the Skokie Swift to tune pianos in various parts of Chicago and the suburbs for a variety of interesting people.
Al also took part in airline history when he was a passenger aboard the first PanAm 747 flight from Chicago to London on April 26, 1970.
It has been many years since Al played chess - perhaps for lack of a challenging opponent - as his mind, memory and wit remain "in tune."
A bachelor, Al admits that many young ladies tried to get his attention, but he let his impending blindness and lack of spending money hinder his social life. After 80 interesting and active years, Al admits to being lonesome, hinting that ignoring those young ladies might have been a mistake.
Additional note: Al was a lifetime member of the United States Chess Federation. His over-the-board rating was Established at 2084 as of his last tournament rated in 1992.