US Chess Home
About USCF
Governance
In Passing
Denis Barry
Denis Barry - June 2, 1929-December 20, 2003
by Glenn Petersen
Denis Barry, former President of the USCF (1994-1996), passed away on December 20, 2003, after a short illness. Funeral services were held December 24th in Arizona. During his tenure as President, USCF membership increased from 73,500 to more than 84,000. He also helped to establish many new national events, regionalizing the Amateur and Amateur team competitions.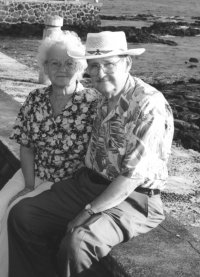 It was his presentation at the US Open in 1979 that led to the Tournament Director Certification Committee (TDCC) becoming an integral part of the USCF infrastructure. He was the chief organizer or chief tournament director for dozens of national events, including the US Open in 1972 (Atlantic City) and 1986 (Somerset, NJ). Undoubtedly he will be remembered most for establishing the US Amateur Team East as one of the USCF's most popular annual events. He will also be remembered for being the captain and guide for the US Blind Team in three Blind Chess Olympiads. Denis also organized the third USCF Blind Championship in 1977. He was the first to use Braille wallcharts at that tournament.
He firmly believed the local chess clubs were the backbone of the USCF. After a stint in the Navy (1950-1952, serving as a cryptographer), he went to work at Westinghouse in Edison, New Jersey. During a lunch break one day, he found two guys playing chess, a game his grandfather taught Denis when he contracted rheumatic fever as a child.
In events stemming from that chance encounter, Denis founded the Raritan Valley Industrial Chess League, which eventually expanded to an 18-team league, the largest in New Jersey. During the early 1960s, he worked with clubs in Manville, Perth Amboy, East Brunswick, and Plainfield. When the German host of the Plainfield club made its displeasure known (the club champion was Jewish), within two weeks Denis had relocated the club to Westfield. By providing activity at all levels, from rank beginner to seasoned veteran, Denis was able to expand the Westfield club to over 200 members. The club earned a reputation as a meeting place for most of the strongest players in the state.
A good portion of the activity in that era was league competition, and the club participated in the North Jersey, Central Jersey, and the Raritan Valley Chess Leagues. It was a proving ground for the younger talents: Robert Wachtel, John Fedorowicz, Mark Pinto, Richie Bauer, and countless others. As a leader at the state and national levels, he had one simple philosophy: Friendship comes first. No matter how much your views differ from someone else's, friendship came first in the chess world. And sometimes it was the simplest of acts that made a difference. During a memorial tournament for a beloved club member, Denis asked a youngster to ask an elderly gentleman for his autograph. Master Paul Robey, a veteran of the New York City chess scene, later said with tears in his eyes, that that was his proudest moment in his long chess career.
If Denis had a mantra as an organizer and tournament director, it might have been this: The players come first. He followed that dictate when directing, organizing, and when serving on various USCF committees. He will be remembered for that alone. (Denis pictured with his wife, Doris, photo provided by Jami L. Anson)